Petition Tag -
extinction
1. Take action against deforestation!
Take action against deforestation! by zachory chin

When species lose their natural habitat to deforestation and other causes, they don't immediately disappear. Instead, they die off over several generations, racking up an "extinction debt" that must eventually be paid in full.

Extinction debt is a concept in ecology that describes the future extinction of species due to events in the past. Extinction debt occurs because of time delays between impacts on a species, such as destruction of habitat, and the species' ultimate disappearance. For instance, long-lived trees may survive for many years even after reproduction of new trees has become impossible, and thus they may be committed to extinction.

New research shows that the Brazilian Amazon has accrued a heavy vertebrate extinction debt, with more than 80 percent of extinctions expected from historical deforestation still impending.
2. Save Wildlife From Extinction, TAKE ACTION!
Be a great part in saving wildlife from extinction and protect them and their habitats. Your support will enable the delivery of vital resources to on-the-ground conservation projects and ensure a more secure environment for global priority species.
3. Save Our Sharks, Sabah, Malaysia
Responding to the article below :
http://www.emedia.com.my/detailnews.php?nid=6448&cid=N01

Over 8,000 tons of shark fins are processed each year. The fins only amount to 4% of a shark's bodyweight. This means that some 200,000 tons of shark are thrown back into the sea and discarded.

11,300 hourly, 100millions Sharks were killed annually. Already 18 species of sharks have been listed as endangered by the International Union for the Conservation of Nature (IUCN).

Source : http://www.seashepherd.org/sharks/shark-finning.html

The Tourism Department in Sabah has done a great job in promoting the State as an International Diving Site. E.g. Sipadan Island, Mabul, Kapalai and Other Marine Park in Kota Kinabalu.

Sharks play a very important role in the ecosystem. If shark finning continues to be a legal in Sabah it will not be very long before the reefs and diving attractions that draw many International travelers to our waters lose their appeal. The standing that Sabah currently enjoys as a destination in tune with the preservation and promotion of a healthy and vibrant marine ecosystem can only go to ensure future growth revenue so long as they are maintained and not depleted of its shark populations.

Please do check on this link to Save Our Turtles :
http://www.gopetition.com/online/35631.html
4. Only 20 Christmas Island Pipistrelles left in the world: Save this Bat Species Now
The PIpistrellus murrayi is a species of vesper bat belonging to the Vespertilionidae family.

This animal is found only on Christmas Island and there are only 20 indivduals left - this little bat is the size of a quarter and they are covered in fur - they are living in a tree that is dead and they desperately need human intervention to survive.

The Australian authorities do not care that this little creature immediate rescue to prevent extinction.

Without prompt attention these little fuzzies will be lost before the end of 2009.
5. Bring Back Sienna Guillory/Jill Valentine for the Resident Evil 4 Movie
Sienna Guillory who performed awesomely as Jill Valentine in resident evil apocalypse was left out in resident evil extinction, due to scheduling conflicts with eragon.

This petition is so that she doesn't get left out again . So if you want SIENNA GUILLORY AND SIENNA GUILLORY ONLY to star in the next resident evil movie as Jill Valentine sign this petition.

We don't want her replaced with another actress.
6. Ban shark fin products in Australia
Australians import 10,000kg of dried shark fins every year from countries that have not banned finning, which equates to an estimated 26,000 sharks.

The brutal act of finning sharks is banned in Australia. Buying them from other countries is supporting the problem. Every 1/2 hr 5000 sharks will be slaughtered.

Unless we make a stand and say no to these products the sharks will be facing extinction.

You do not want to tell your children what a shark used to look like.


7. Moratorium urgently needed: Kangaroos heading for Extinction
After investigating the state government data pertaining to kangaroo densities across the Kangaroo Management Zones, it has been found that kangaroos are now 'quasi extinct' across most of NSW, South Australia and Queensland. 'Quasi extinction' refers to population densities of less than five kangaroos per square kilometre and has been defined by the Murray Darling Report as 'the nominal value of kangaroo densities taken to be the effective loss of the species.'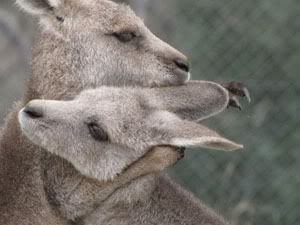 The Murray Darling Report is a document published by the Murray Darling Commission, written by government and independent scientists and titled 'Kangaroo Options in the Murray Darling Basin.' The report says, 'Strategies that produce average densities of less than five kangaroos per square kilometre would result in minimum densities of less than two kangaroos per square kilometre and could be considered a threat to species conservation.'
Further interpretation of state government data from New South Wales, Queensland and South Australia shows kangaroo densities that are now less than two kangaroos per square kilometre across more than 50% of these states. The Murray Darling Report states, 'Critical minimum densities of less than two kangaroos per square kilometre would generally be considered at risk of extinction.'
In regard to the future of the kangaroo industry, the Murray Darling Report said, 'Reduction of kangaroo densities to less than five per square kilometre over large areas would result in the demise of the kangaroo industry.'
Government statistics also show that the average weight of kangaroos killed in South Australia and Queensland is only 21 kilograms i.e. juveniles aged about two years, the males of whom are not even at reproductive age and females, most barely at breeding age. In South Australia 50% of kangaroos killed are females in half the state which by itself puts kangaroos at risk of extinction.
With one third of Australian native mammals having been driven to extinction since the first settlers arrived just over 200 years ago, we cannot afford to imperil the existence of kangaroos who are the world's second most recognised tourist symbol. An $85 billion tourist industry is not worth sacrificing for a $200 million kangaroo industry. Kangaroos are worth far more alive than dead. Blinded by short-term profits, certain industries could be responsible for the extinction of our kangaroos and in fact that is already starting to happen.
It is imperative that we implement a moratorium on commercial and non-commercial killing of kangaroos immediately for the sake of our country, our tourist industry, our economy, our environment, our reputation, and most importantly, our world-famous icon.
For more information go to http://www.stopkangarookilling.org http://www.australiansocietyforkangaroos.com
http://www.aph.gov.au/Senate/committee/history/animalwelfare_ctte/kangaroos/11minrep.pdf
SPONSORS:
Nikki Sutterby, Coordinator, Australian Society for Kangaroos, E: australiansocietyforkangaroos@gmail.com
P: 0417354408
Pat OBrien, Coordinator, Wildlife Protection Association Australia, and the Kangaroo Protection Coalition
pat@wildlifeprotectaust.org.au, P: 0408711344
Fiona Corke, Campaign Coordinator, Kangaroo Defenders P: 0410745793
Professor Steve Garlick PhD, FAUCEA
Professor, Regional Engagement, University of the Sunshine Coast (Qld), Vice President, AUCEA, Advisor, IMHE/OECD, Member, St James Ethics Centre,
P: 0428 880 564, E: sgarlick@msn.com.au
Dr Mark Drummond, Mathematics and Statistics Teacher
phone 02 6255 0772, email markld@ozemail.com.au
Maryland Wilson, President, Australian Wildlife Protection Council Inc, Kindness House, Suite 18, 288 Brunswick St, Fitzroy, Victoria 3065, Coalition for Wildlife Corridors
P: 0417 148 501, E: kangaroo@peninsula.hotkey.net.au
web site: www.awpc.org.au
IMPORTANT:
* If you want your name to be anonymous, uncheck 'signature display' and type in your real name which will only be used for the Senate petition, not online.
* Your street address and email will not be publicly visible, only your town, state and country. If you do not wish town, state, country to be visible contact us privately with your information.
- IMPORTANT NOTE -
WITHOUT YOUR FULL NAME, FULL ADDRESS (INCLUDING STREET OR PO BOX NUMBER) - AND EMAIL - YOUR SIGNATURE WILL BE DELETED as it will be rejected by the Australian parliament as a valid signature.
Every vote counts for the kangaroos but unfilled required fields do not count.
DUPLICATE SIGNATURES ALSO DELETED. Signing more than once will not count. Sorry!
Learn more at http://www.kangaroosatrisk.net
http://www.australiansocietyforkangaroos.org
8. Protect the Persian Leopard
The Persian or Iranian Leopard is a secretive animal, like all leopards, and is seldom seen in the wild. Residing in hilly and forested areas. It is a solitary feline that faces a variety of threats in it's natural habitat and is struggling to survive in nature.

There are fewer than thirteen hundred Persian Leopards in the wild today and the highest number are in Iran with around six to eight hundred reportedly existing.

There are some conservation projects underway, at the moment though, this magnificent animal is classified as Endangered. This is due to poaching for fur, trophy hunting, poisoning, fires, and habitat and prey loss, also continued warfare within it's geographical range.

The Leopard is a flag species, and it's presence shows the health of the entire ecosystem.
9. Stop the poaching of Uganda's Mountain Gorillas
Mountain gorillas are the rarest species of gorilla in the world and yet the are still being killed.

There is only about 600 of the species left in the wild and these magnificent gorillas are at the verge of extinction.

Their long-term survival continues to be threatened by natural changes and disasters, hunters and poachers, and the chronic political instability that swirls around the edge of their forest home.
10. Protect the Wolves of Norway
The wolf population in Norway is in a critical situation. This spring the government of Norway sanctioned a culling of wolves from only an estimated population of 25 wolves remaining in the country. During the hunt, an alpha female was killed "by accident" from one of the packs not to be targeted for the hunt - effectively dispersing the family. By the end of the hunt there were only 2 families left, and only one mating pair between the two.

The attitude of the government is biased by heavy lobbying of sheep farmers throughout the country who are trying to protect their free-range sheep. A quote from Afenposten tells all: "We want to keep Norway wolf-free. The wolf is vermin and should be taken out," said the leader of the Center Party program committee, Lars Peder Brekk."

Recently another wolf was found dead by unknown causes. This male wolf was a member of the family of wolves whose alfa female was wrongfully killed during the hunt. This death strikes a devastating blow to the wolf population. Now only one family survives in Norway.

The purpose of our petition is to show global support for the wolves and to demand the government of Norway change their policies and protect the wolves from extinction.
Every year in Canada the Government allows the legal hunting of Polar Bears by the Inuit people. They are also allowed to sell there hunting rights. Last year 500 polar bears in Canada were lost to this unnecessary hunting. Polar Bears are a "very" threated species and are on the verge of becoming endangered.

They face many threats in todays world such as global warming that melts the ice flows to which they need to hunt from. We need to give them a chance for survival and the continued hunting is not help.

In todays world there is no need to hunt this precious and irreplaceable species. There right to exist far out wieghs any peoples right to huntto hunt them.
Kermode bears are black bears with a genetic distinction that makes them white. There are less than 400 left in the world and they only live in BC's coastal rainforest. Logging companies are planning to cut down large amounts of the trees in this forest, leaving the Kermode bear's habitat diminished, and will therefore destruct the population of this rare treasure. Please sign this petition to save these bears from extinction because they're losing their homes so that we can have new IKEA furniture.