Petition Tag -
extinct
1. Facebook Members against Thrill Killers posting photos publicly on Facebook
Killing for the thrill is unfortunately legal in the US and many countries. For many of us, thrill kill is not hunting at all but merely an excuse to slaughter animals that are not going to be consumed for sustenance, rather, killing for 'sport'. Sport involves competition and its quite clear that NO animal is going to have a chance to 'compete' with these killers, thus it simply is NOT 'sport', not sport for the animals at all. The creature has no chance of survival when there is a massively powered gun with a scope on it, aimed at it from a very safe distance by a very sick individual. This is not sport, this is murder/killing and its simply for a rush of adrenaline, lack of or too much, testosterone and lastly, bragging rights. This includes the men too; ladies, you are not being singled out.

While it is unlikely that as citizens and Facebook members signing this petition we can do much about this enormous foe and the income created from the hundreds of thousands of jobs it offers, the hunting, the guns & ammo, income from the sporty & fabulous clothing designs and the biggest foe - the NRA; we CAN make a stand, albeit a small one, by objecting to having to view the carnage of thrill kill on the public forum of Facebook. Any objection to thrill killing is taking a stand for animals rights and animal welfare, it also takes a stand against animal cruelty and abuse.

This petition serves to erradicate gruesome photos from Facebook. It also serves to bring more awareness to the all encompassing industry of thrill kill which is mostly comprised of elitists with tons of money.

Beautiful creatures die at the hands of people who believe they have a right to kill it regardless of it NOT being a source of food. Many argue it is their right as Americans (or human beings) to kill for the thrill and unfortunately, they are correct. It is my right, however, to complain and object to having to view the photos that are currently visible to the general public of Facebook.
2. Moratorium urgently needed: Kangaroos heading for Extinction
After investigating the state government data pertaining to kangaroo densities across the Kangaroo Management Zones, it has been found that kangaroos are now 'quasi extinct' across most of NSW, South Australia and Queensland. 'Quasi extinction' refers to population densities of less than five kangaroos per square kilometre and has been defined by the Murray Darling Report as 'the nominal value of kangaroo densities taken to be the effective loss of the species.'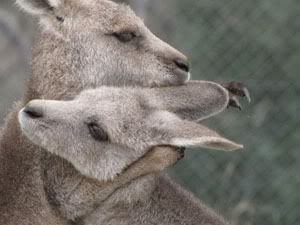 The Murray Darling Report is a document published by the Murray Darling Commission, written by government and independent scientists and titled 'Kangaroo Options in the Murray Darling Basin.' The report says, 'Strategies that produce average densities of less than five kangaroos per square kilometre would result in minimum densities of less than two kangaroos per square kilometre and could be considered a threat to species conservation.'
Further interpretation of state government data from New South Wales, Queensland and South Australia shows kangaroo densities that are now less than two kangaroos per square kilometre across more than 50% of these states. The Murray Darling Report states, 'Critical minimum densities of less than two kangaroos per square kilometre would generally be considered at risk of extinction.'
In regard to the future of the kangaroo industry, the Murray Darling Report said, 'Reduction of kangaroo densities to less than five per square kilometre over large areas would result in the demise of the kangaroo industry.'
Government statistics also show that the average weight of kangaroos killed in South Australia and Queensland is only 21 kilograms i.e. juveniles aged about two years, the males of whom are not even at reproductive age and females, most barely at breeding age. In South Australia 50% of kangaroos killed are females in half the state which by itself puts kangaroos at risk of extinction.
With one third of Australian native mammals having been driven to extinction since the first settlers arrived just over 200 years ago, we cannot afford to imperil the existence of kangaroos who are the world's second most recognised tourist symbol. An $85 billion tourist industry is not worth sacrificing for a $200 million kangaroo industry. Kangaroos are worth far more alive than dead. Blinded by short-term profits, certain industries could be responsible for the extinction of our kangaroos and in fact that is already starting to happen.
It is imperative that we implement a moratorium on commercial and non-commercial killing of kangaroos immediately for the sake of our country, our tourist industry, our economy, our environment, our reputation, and most importantly, our world-famous icon.
For more information go to http://www.stopkangarookilling.org http://www.australiansocietyforkangaroos.com
http://www.aph.gov.au/Senate/committee/history/animalwelfare_ctte/kangaroos/11minrep.pdf
SPONSORS:
Nikki Sutterby, Coordinator, Australian Society for Kangaroos, E: australiansocietyforkangaroos@gmail.com
P: 0417354408
Pat OBrien, Coordinator, Wildlife Protection Association Australia, and the Kangaroo Protection Coalition
pat@wildlifeprotectaust.org.au, P: 0408711344
Fiona Corke, Campaign Coordinator, Kangaroo Defenders P: 0410745793
Professor Steve Garlick PhD, FAUCEA
Professor, Regional Engagement, University of the Sunshine Coast (Qld), Vice President, AUCEA, Advisor, IMHE/OECD, Member, St James Ethics Centre,
P: 0428 880 564, E: sgarlick@msn.com.au
Dr Mark Drummond, Mathematics and Statistics Teacher
phone 02 6255 0772, email markld@ozemail.com.au
Maryland Wilson, President, Australian Wildlife Protection Council Inc, Kindness House, Suite 18, 288 Brunswick St, Fitzroy, Victoria 3065, Coalition for Wildlife Corridors
P: 0417 148 501, E: kangaroo@peninsula.hotkey.net.au
web site: www.awpc.org.au
IMPORTANT:
* If you want your name to be anonymous, uncheck 'signature display' and type in your real name which will only be used for the Senate petition, not online.
* Your street address and email will not be publicly visible, only your town, state and country. If you do not wish town, state, country to be visible contact us privately with your information.
- IMPORTANT NOTE -
WITHOUT YOUR FULL NAME, FULL ADDRESS (INCLUDING STREET OR PO BOX NUMBER) - AND EMAIL - YOUR SIGNATURE WILL BE DELETED as it will be rejected by the Australian parliament as a valid signature.
Every vote counts for the kangaroos but unfilled required fields do not count.
DUPLICATE SIGNATURES ALSO DELETED. Signing more than once will not count. Sorry!
Learn more at http://www.kangaroosatrisk.net
http://www.australiansocietyforkangaroos.org
3. The Environment Needs OUR Help!
The background information is pretty much that our environment is turning into a dump.

Rainforests are being cut down, and the ozone layer is completely disappearing. Global warming is for a fact, happening. The evidence of global warming is Al Gore's documentation called "An Inconvenient Truth".

Many animals are dying because of global warming, such as polar bears and penguins. They are dying at increasing rates and will end up extinct. In the documentation "An Inconvenient Truth", Al Gore shows stunning statistics.

The one that I found most stunning is that if we continue on like this, some of our major cities will be totally underwater because of the melting ice from the north and south poles. Some of the places are New York City, Miami, Houston, and many others.
Save the Acrubas.

Save the Acrubas or else they will be extinct.
The shark is a wonderful creature. Feared, but beloved by many - I repeat, many - countries, the shark is, sadly enough, being deliberately killed by humans in seeming "need" for sharkfin soup, shark leather, shark teeth jewelry, and other shark "necessities".

Many times, the sharks are simply caught on fishing rods, stripped of their dorsal, pectoral, and tail fins, and thrown back into the sea to sink back to the bottom and drown. This practice, known as finning, is portrayed as revenge on the sharks. However, for every human killed by shark "attack", 2 million sharks are killed on purpose. This sad, sad statistic will soon lead to the extinction of this beautiful and amazing creature.

Will our children have to grow up, not believing that such a creature as a great white shark is, or was ever, true? Only learning about sharks from movies and books and the Internet, many of which sources are made up stories?

Sharks never attack humans on purpose. As said in Peter Benchley's nonfiction book, Shark Life, sharks often just bite because they are testing whether or not the human is a good source of prey. Oftentimes, it looks as if a seal or a turtle was swimming above them, when in reality, it is a human on a surfboard.

Sharks are poor, misunderstood creatures that need desperate action to be saved. Please sign the petition and stop shark finning and other types of cruel behavior towards sharks, rays, and skates.

(Note: Rays are subject to finning, also.)
Save the whales. Sign this and save the whales which are nearly extinct due to poaching.