Petition Tag -
joeys
1. Ban Exotic Pet Breeding and Sales / Sugar Gliders
WATCH THIS BEAUTIFUL VIDEO of a sugar glider in their natural habitat. Help me fight against the breeding and selling of all exotic animals, as pets. These beautiful sugar gliders are being sold as pets, living in small cages.

The "Pocket Pets" company will be at your malls, through the holidays, selling their sugar gliders at kiosks. DO NOT BUY THEM. These beautiful marsupials, are meant to live, in Australia, not a cage, in our homes. They often die, from the unnatural conditions. No human could ever give them the quality of life, they are meant to have. As you can see in the video, these are far from "pocket pets", as advertised. They require a lot of space, warm climate, a special diet, companionship of other sugar gliders and the freedom to "glide". They are living in small cages with an exercise wheel. They become depressed, if not cared for properly and will self mutilate due to stress and depression.

Please encourage people not to purchase exotic pets and help put the breeders out of business. The breeding conditions are horrible. PETA has videos of the back rooms of these breeders.Take a stand against animal abuse and sign this petition to ban the breeding and selling of sugar gliders and all exotic pets.

Here is the link for sugar gliders in the wild, as they should live:
http://youtu.be/5ZusPLqFbkk

Here is the link from PETA for the back room of exotic animal breeders and the horrible suffering these animals endure, just to make money. The video is called "The Pet Trade, 'Pocket Pets':
http://youtu.be/endII5K--as
Late at night while peacefully grazing, thousands of kangaroos are faced with the threat of being hunted for their meat or skins.

These quiet herbivorous creatures which are an important part of the Australian ecosystem and have become part of Australia's huge landscape for thousands of years are brutally killed for nothing other than profit. The killing of kangaroos has been described as the largest global massacre of wildlife in the world. The largest killing is taking place right here in Australia right now!

Millions of kangaroos are killed each year in Australia for their meat or skin as I mentioned before. The slaughter occurs in the most brutal way, most of the time, the kangaroos are still alive after they've been shot, and are dragged through the dirt in such awful pain and hung up by their feet. Kangaroos are not the only ones who get affected by this slaughter, so do the joeys. If the joeys are left in their mothers pouch, the killers rip it out by its delicate legs, and throw it on the ground, violently stomping on their heads and bodies just like a kid would do to a bug leaving their bodies crushed with pain. If the Joey isn't stomped on, the killer just tosses the baby Joey onto the ground, so that any predator, whether it's ants or dogs, can eat it alive. The orphaned older Joeys that don't end up dying, are either killed completely, or sold into the cruel wildlife pet trade to spend the rest of their lives in cages as "entertainment".

The scene is repeated all night long. Older joeys may hop away when their mothers are shot as the Joey dies a slow and lonely death from cold or starvation. This is the reality of kangaroo killing. But the killing continues.

The shooters are supposed to legally wound the kangaroo by a single shot to the head to avoid suffering, many kangaroos are shot in the jaw, neck, or chest, which causes enormous suffering. The pouch dependant joeys are ripped from their dead mothers pouch and either hit over the head with a metal pipe - a practice that is considered acceptable by the Australian government.

The Kangaroo has been a part of Australian history long before European settlement; it is seen on the Australian coat of arms, the fifty cent and one dollar coins and is the mascot of Australia's largest Airline Qantas – However, the Australian government still allows the slaughter of several million kangaroos a year. The dead bodies of these beautiful animals are exported all over the world. Australia exports approximately 3 million kangaroo skins each year – mainly to Europe and the USA. Kangaroo skins are used to make handbags, wallets, sports gloves and mitts, golf bags, shoes (including athletic football boots and cycling shoes) coin purses, beer can holders, and other ridiculous products.

Lots of rumours go around about the kangaroos but most of them are just lies and reasons to shoot these innocent kangaroos and just so the government gets his way with money. But what is written below is no lie and is proven.

Myth - Kangaroos destroy wheat crops
A four year study by CSIRO(Commonwealth Scientific & Industrial Research Organisation) found that 95 per cent of wheat crops are never visited by kangaroos. Yet farmers and the Australian government still refer to kangaroos as pests. "Pests is an emotive word. It conjures up visions of animals destroying crops. I can think of no situations where this is likely to be true for kangaroos." (Dr. Graham Arnold, CSIRO) In fact, commercial killing takes place in the outback where crops are never grown.

Myth - Kangaroos compete with sheep for grazing
A six-year study by Dr Steven McLeod (NSW Agriculture) - the biggest ever undertaken - examined whether red kangaroos affected sheep farming. It found that there was no competition for food between sheep and red kangaroos and that the presence of kangaroos had no negative impact on the number of lambs born to the flock, nor their size.

Myth - Killing kangaroos helps preserve them
The kangaroo massacre destroys the process of natural selection. The repeated targeting of the 'alpha' males, the largest and fittest animals (who provide the industry with the big skins they want), means younger, smaller animals are left to breed, weakening the gene pool. "This has the potential to cause the extinction of a number of species". (Dr Ian Gunn, Animal Gene Storage Resource Centre of Australia.) Australia has the worst wildlife record in the world - six species of kangaroos extinct, four more extinct on the Australian mainland, 17 species endangered or vulnerable.

Myth - The killing is strictly controlled
No one monitors, let alone controls, the killing in the field. Kangaroos are shot at night in the vast outback, far away from public scrutiny. The Code of Practice for the Humane Shooting of Kangaroos, which hunters are supposed to adhere to, is a guideline document, not a law, and is not even linked to the Prevention of Cruelty to Animals Act. In order to obtain a licence to kill kangaroos commercially, all hunters have to do is read the Code, 'understand' it, and pass a one-day marksmanship course. "Shooters often have a thorough contempt for the law. They commit cruelty on a regular basis." (Dr John Auty, veterinary scientist and former Chief Agronomist).

Myth - Kangaroos are killed to save the environment
Kangaroos are an integral part of Australia's environment. They have evolved to live in harmony with the fragile landscape and often hostile weather conditions. Destruction of the environment comes from 160 million hard-hoofed sheep and cattle.

Myth - Kangaroos are in plague proportions
Kangaroos have never been a plague. They have been wiped out in many regions. In others, their numbers build up in order to withstand the regular droughts which wipe out half the population. Kill quotas for 2001 were 5.5 million, for 2002 7 million and for 2003 6.5million (the figure has decreased only because the government has had to acknowledge the sheer number of kangaroos who are dying in the drought that Australia is currently in the midst of). The official quota ignores joeys, road deaths, illegal and non-commercial kills. This annual death toll could amount to 10 million - a patently unsustainable figure.

Fact - The kangaroo industry exists in its own right - to make money by slaughtering the animals for their meat and skins. The meat and leather is promoted and marketed around the world to earn valuable foreign currency. Having built an industry with political clout, self interest will ensure it carries on killing, whatever its impact on kangaroos.

- Ways you can help:
Show your support to encourage people to let these poor kangaroos into their natural habitat in Australia and not rotting on the ground or even in boxing rings! And the best way to help is not to purchase any kangaroo meat or leather. And finally, demand an end to the biggest massacre of wild animals in the world.

No animals, whether human or beast should be forced to live a life they don't want to live, or killed for selfish reasons. We should be sharing our resources and learning to live in harmony, not destroying the original inhabitants because we selfishly want the land for our own purposes and it just isn't funny, imagine how scared they must be, all the noise and pain, we need to stand up and say this is not right, this is cruelty to Kangaroos, and remember this, animals have feelings too.
3. Moratorium urgently needed: Kangaroos heading for Extinction
After investigating the state government data pertaining to kangaroo densities across the Kangaroo Management Zones, it has been found that kangaroos are now 'quasi extinct' across most of NSW, South Australia and Queensland. 'Quasi extinction' refers to population densities of less than five kangaroos per square kilometre and has been defined by the Murray Darling Report as 'the nominal value of kangaroo densities taken to be the effective loss of the species.'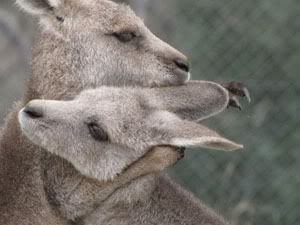 The Murray Darling Report is a document published by the Murray Darling Commission, written by government and independent scientists and titled 'Kangaroo Options in the Murray Darling Basin.' The report says, 'Strategies that produce average densities of less than five kangaroos per square kilometre would result in minimum densities of less than two kangaroos per square kilometre and could be considered a threat to species conservation.'
Further interpretation of state government data from New South Wales, Queensland and South Australia shows kangaroo densities that are now less than two kangaroos per square kilometre across more than 50% of these states. The Murray Darling Report states, 'Critical minimum densities of less than two kangaroos per square kilometre would generally be considered at risk of extinction.'
In regard to the future of the kangaroo industry, the Murray Darling Report said, 'Reduction of kangaroo densities to less than five per square kilometre over large areas would result in the demise of the kangaroo industry.'
Government statistics also show that the average weight of kangaroos killed in South Australia and Queensland is only 21 kilograms i.e. juveniles aged about two years, the males of whom are not even at reproductive age and females, most barely at breeding age. In South Australia 50% of kangaroos killed are females in half the state which by itself puts kangaroos at risk of extinction.
With one third of Australian native mammals having been driven to extinction since the first settlers arrived just over 200 years ago, we cannot afford to imperil the existence of kangaroos who are the world's second most recognised tourist symbol. An $85 billion tourist industry is not worth sacrificing for a $200 million kangaroo industry. Kangaroos are worth far more alive than dead. Blinded by short-term profits, certain industries could be responsible for the extinction of our kangaroos and in fact that is already starting to happen.
It is imperative that we implement a moratorium on commercial and non-commercial killing of kangaroos immediately for the sake of our country, our tourist industry, our economy, our environment, our reputation, and most importantly, our world-famous icon.
For more information go to http://www.stopkangarookilling.org http://www.australiansocietyforkangaroos.com
http://www.aph.gov.au/Senate/committee/history/animalwelfare_ctte/kangaroos/11minrep.pdf
SPONSORS:
Nikki Sutterby, Coordinator, Australian Society for Kangaroos, E: australiansocietyforkangaroos@gmail.com
P: 0417354408
Pat OBrien, Coordinator, Wildlife Protection Association Australia, and the Kangaroo Protection Coalition
pat@wildlifeprotectaust.org.au, P: 0408711344
Fiona Corke, Campaign Coordinator, Kangaroo Defenders P: 0410745793
Professor Steve Garlick PhD, FAUCEA
Professor, Regional Engagement, University of the Sunshine Coast (Qld), Vice President, AUCEA, Advisor, IMHE/OECD, Member, St James Ethics Centre,
P: 0428 880 564, E: sgarlick@msn.com.au
Dr Mark Drummond, Mathematics and Statistics Teacher
phone 02 6255 0772, email markld@ozemail.com.au
Maryland Wilson, President, Australian Wildlife Protection Council Inc, Kindness House, Suite 18, 288 Brunswick St, Fitzroy, Victoria 3065, Coalition for Wildlife Corridors
P: 0417 148 501, E: kangaroo@peninsula.hotkey.net.au
web site: www.awpc.org.au
IMPORTANT:
* If you want your name to be anonymous, uncheck 'signature display' and type in your real name which will only be used for the Senate petition, not online.
* Your street address and email will not be publicly visible, only your town, state and country. If you do not wish town, state, country to be visible contact us privately with your information.
- IMPORTANT NOTE -
WITHOUT YOUR FULL NAME, FULL ADDRESS (INCLUDING STREET OR PO BOX NUMBER) - AND EMAIL - YOUR SIGNATURE WILL BE DELETED as it will be rejected by the Australian parliament as a valid signature.
Every vote counts for the kangaroos but unfilled required fields do not count.
DUPLICATE SIGNATURES ALSO DELETED. Signing more than once will not count. Sorry!
Learn more at http://www.kangaroosatrisk.net
http://www.australiansocietyforkangaroos.org
4. Petition to Adidas : Stop Using Kangaroo Leather
This petition appeals to Adidas to stop using kangaroo leather in their products. Each year, millions of kangaroos are killed in what is widely regarded as the largest wildlife massacre on the planet. Kangaroo joeys are bludgeoned to death or discarded and left to die from cold, starvation and predation.

Shockingly, the number one supporters of this barbaric trade are sports shoe manufacturers, who purchase the skins and turn them into football boots. Adidas, one of the kangaroo industry's biggest customers, is a major driving force behind the industry.