Stop Burning and deforestation in Nan, Thailand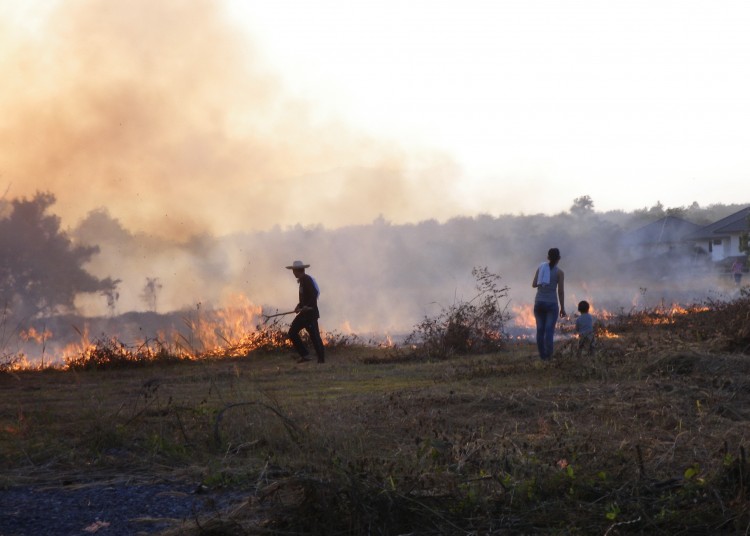 Target:

Governor of Nan, Thailand

Region:
In many places around the world, burning is used for a quick and easy way to prepare farm lands for planting or dispose of farming waste. Since large companies like CP and Monsanto found their way to the Nan Province of Thailand, the destruction of the forest and nature in this area in particular over the last 10 years have been devastating.
Every year hundreds of acres of forest are destroyed by setting fire to it to grow the ever increasing hunger for corn. Consequently all these fields and crop waste are set on fire at every harvest. And the burning is not just limited to the farm fields, but it is common practice and even tradition to burn anything around you as way to "clean the mess".
As the burning was limited to two or three months in the past, the blue haze is now present for most of the year. The secondary effects of deforestation and burning are rapidly starting to show as well. Increase in asthma cases, flooding, drought, heat, mudslides, etc.
There is no visible action from (local) government accept a few posters along the road. Actually a lot of the burning and farming is done within the National Parks of Nan, often right next to a checkpoint or park office. Most of the road shoulders which are government property are set on fire as well instead of cutting them. So government and law enforcement must be aware of what is happening but it seems they are not trying to actively do anything about the problem.
As I love Nan, the beautiful scenery and the amazing people that live here, it hurts me to see the destruction that is happening. I hope this petition will help to start a change for the better before it will be too late. On behave of all citizens of Nan and those affected, I Thank you for your help!
We, the undersigned, call on the government of Thailand and Nan in particular to:
1. Ban all burning of farm fields, crop waste, forests, road-shoulders, garden waste and other forms of unnecessary burning;
2. Invest in research, education and provide alternative means for the farmers and people involved to farm and dispose of their waste in a sustainable way;
3. Force large companies to take responsibility in ensuring their suppliers use sustainable farming methods;
4. Assign and limit areas for farming and protect and re-instate nature and forest in other areas;
5. Actively enforce the laws of illegal farming and burning without favor.
The evidence and consequences of burning are all around us, are overwhelming and it should be clear that it has to stop. To list just a few:
• Burning causes serious Health problems
• Burning and deforestation causes global and local climate change
• Burning and deforestation causes mud slides, flooding and draught
• Burning kills animals
• Burning causes serious annoyance for everyone around
• Burning decreases revenue from Tourism
• The economical costs of the consequences far outweigh the benefits.
• And more…..
We request the political leaders of Nan and Thailand to do what it takes to stop the burning and deforestation immediately before it will be too late.
You can further help this campaign by sponsoring it
The Stop Burning and deforestation in Nan, Thailand petition to Governor of Nan, Thailand was written by Nan Guesthouse and is in the category Environment at GoPetition.
Stop Burning and deforestation in Nan, Thailand