San Francisco Pride Board: Reinstate Bradley Manning as Grand Marshal!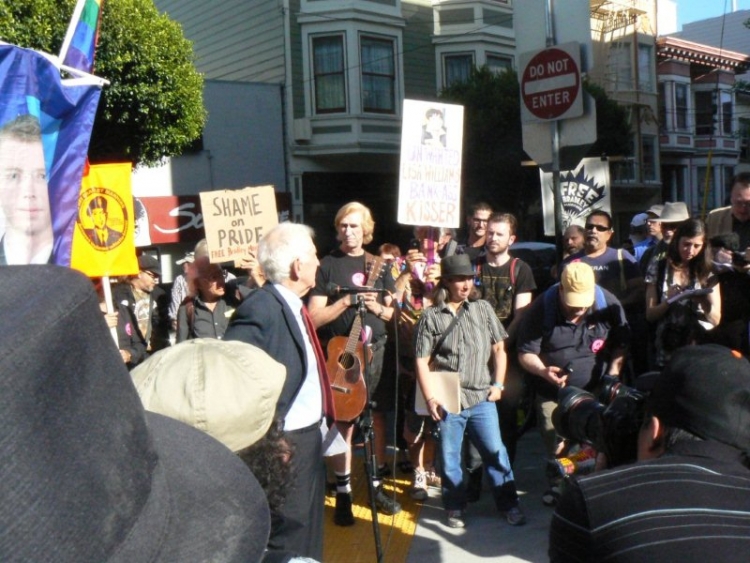 Target:

San Francisco Pride Board: http://sfpride.org/about/contact.html

Region:

Website:
Whereas Bradley Manning has "Come Out" on behalf of all of us, and is a hero the LBGTQ community is proud of;

Whereas Bradley Manning has performed a service on behalf of the 99% everywhere by exposing the truth behind the veil of secrecy surrounding the US government's criminal wars, occupations, rendition, torture, murder, rape, and collaboration with the crimes of governments and corporations worldwide; and

Whereas San Francisco Pride Board has abused its own process for choosing a Grand Marshal as they officially confirmed Bradley Manning's election and then unilaterally removed him. (See A Chronology )
We the undersigned demand that the San Francisco Pride Board immediately reinstate Bradley Manning as Grand Marshal for San Francisco Pride 2013.

We urge everyone to join the Bradley Manning Contingent at Pride.

Endorsers: Act Up SF + East Bay; F-WORD, Feminists Working on Real Democracy; Gary Virginia, SF Pride Community Grand Marshal; Gay Liberation Network;Gays Without Borders; Harvey Milk LGBT Democratic Club;Joey Cain, past SF Pride Board president, former Grand Marshal; LAGAI Queer Insurrection; Occupy AIDS; Occupy SF; Occupy Santa Cruz; Queer Friends of Bradley Manning; Queer Strike; Queers Undermining Israeli Terrorism (QUIT!); SEIU Local 1021; SF Green Party; SF Iraq Vets Against War; Stephen Funk, artistic director, Veteran Artists; and other individuals....
Sign this petition