Release Atty. Remigio Saladero, Jr. NOW!!
Target:

The Philippine government

Region:

Website:
Atty. Saladero has been released.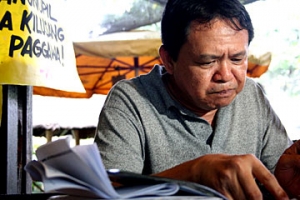 Atty. Remigio Saladero, Jr. is a labor lawyer for the Pro-Labor Legal Assistance Center (PLACE), a founding member of the National Union of People's Lawyers, regular columnist of the newspaper Pinoy Weekly, a San Beda law graduate, member of the Free Legal Assistance Group (FLAG), and chief legal counsel of the Kilusang Mayo Uno (KMU). He was one of the top 20 board passers when he took the bar examination in 1984.
But on October 23, 2008, Atty. Saladero was reported missing. He was forcibly taken into custody; his mobile phone, a computer CPU, and a laptop was nabbed. He was charged with multiple murder and multiple frustrated murder which took place in Mindoro. (Saladero was also falsely charged with arson and conspiracy to commit rebellion together with 18 other activists for allegedly having been involved in burning a cell site of a telecommunication company in Lemery, Batangas last August 2, 2008) And then he was imprisoned in Calapan City, Mindoro Oriental (at the provincial jail). However, Atty. Saladero has already been surfaced.
Atty. Saladero, together with his wife Maricel, has never been to Mindoro prior to his disappearance, and they never went to that cellsite which was allegedly burned last August 2.
Atty. Saladero is a law-abiding citizen, showing concern for our countrymen, especially the poor. He has been a columnist of Pinoy Weekly since 2002, submitting his articles through fax and recently, through electronic mail, his column titled "Husgahan Natin." He is respected by many Filipinos, especially trade unions.
We act as if our families were the only inhabitants of our country. We even pretend that we (and our ancestors) have solved the current issues of our country during the greatest moments of our lives, only to think more of our futures. Are we still afraid of communists taking over the world? Are we still afraid of weapons of mass destruction? Why fear and believe in the prejudicial assumption that all labor lawyers are linked to rebel groups? What is going on with our country??
How can we be Good Samaritans if we can show concern for only our family and friends? Is the progress of our country vested only in a few persons? We might be on the verge of inciting war against our foreign neighbors! We don't want that to happen to our descendants!! We don't want ourselves and our descendants to be called as mindless cowards! We know how extremely serious this situation is.
I would rather sacrifice my life to protect the rights of my countrymen (especially women and migrant workers) rather than just ignoring them! Because the current condition of our country affects our futures as well!! So show concern for human rights, or expect another Holocaust to happen.
We, the undersigned, petition for:
1. The authorities concerned, to release Atty. Saladero unconditionally;
2. To the government of the Republic of the Philippines, to make further investigations on the case(s) of Atty. Saladero;
3. To all concerned citizens of our country, to speak up against human rights violations, especially extrajudicial killings and forced disappearances, and to show concern for human rights and freedom of the press.
The Release Atty. Remigio Saladero, Jr. NOW!! petition to The Philippine government was written by Kevin Limkinglam and is in the category Human Rights at GoPetition.
Release Atty. Remigio Saladero, Jr. NOW!!