Give Our Community a Reindahl Library+Housing Option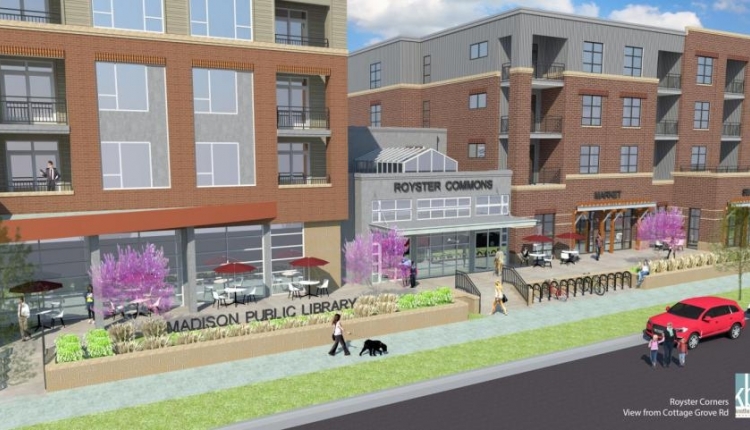 Target:

Madison area residents

Region:

Website:
Several years ago, a new library/community center was proposed for Madison's northeast side. Three general locales were considered, during a Madison library staff-led planning process that had both good and questionable elements. The Reindahl Park area came out on top, in part because library staff changed the rating tool, reducing environmental considerations.
Participants in this public process seem not to have been asked to consider one of several park-adjacent sites, A recent northeast area strategic plan developed by library staff, prioritized siting new northside and northeast side city libraries inside city parks. This was a change from other recent libraries such as Sequoya and Pinney, which were "condo" style facilities, built into mixed-used developments that include housing.
For example, the soon to open Pinney PL was projected to cost $14.8 million: $3,2 million to secure condo space in a mixed used development, and $11.7 for the library/facility (https://madison.com/wsj/news/local/govt-and-politics/madison-s-new-pinney-library-will-be-cultural-civic-and/article_9981abf4-4143-540a-916c-04fe8c3bfe6b.html). Housing above the Pinney PL and mixed used alongasidew it will generate property tax revenue for the city. This condo approach must make fiscal sense, since it was also used for Madison Sequoya PL and Milwaukee's most recent five libraries.
Also, though library staff have advocated single-mindedly for an in-park site, the map of the most recent (2o13) master plan for Reindahl Park does not show such a facility. In 201`9, our community was promised that final siting of the library would not be decided until that master plan is revised in 2020. However, with support from city Parks, Engineering, and Water utility staff, Library staff caused the city to spend $12,000 to have structural soil borings done for their preferred in=park site, near Reindahl Woods. The park's only old growth wood stand, Reindahl Woods needs to be protected from light pollution.
In 2019, the library staff's fixation on their preferred in-park site became the rationale for forcing the route of a sewer pipe through Reindahl Woods. Over 36 mature trees, most rated by an arborist as "high value") were cut down. Subsequent pipe trenching in Reindahl Park to a depth of 25-45 feet has put ten old growth bur oaks and several other mature/native park trees at risk. This was done despite a "Save Reindahl Woods" petition (with 272 signatories), supporting a sensible and likely less costly alternative route for the pipe slightly to the north of Reindahl Woods.
We petitioners ask City of Madison staff to provide a park-adjacent, mixed-use site option for the poroposed Reindahl area library facility (Imagination Center).
This "condo" option, used for Pinney and Sequoya libraries, should:
* allow housing to be built over the library, to generate property taxes, offsetting costs of the library facility;
* explore the redevelopment potential of all of the several parcels along and near the east border of Reindahl Park;
* consider use of the city right-of-way and the WISDOT parcel along Parkside Drive west of East Washington Avenue;
* be considered during the 2020 Reindahl Park master plan revision; and,
* permit comparison with any in-park site option, for eco-equity, and for published library planning goals.
You can further help this campaign by sponsoring it
The Give Our Community a Reindahl Library+Housing Option petition to Madison area residents was written by Jon Becker and is in the category City & Town Planning at GoPetition.
Give Our Community a Reindahl Library+Housing Option