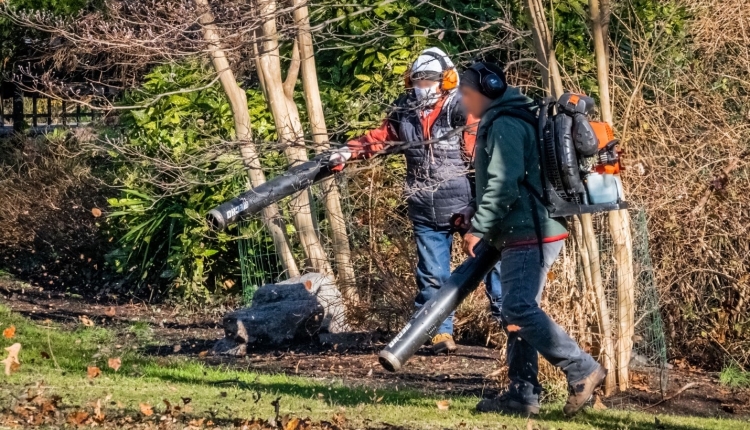 Target:

Alexandria City Council

Region:
Residents in Alexandria are exposed to a significant, recurring noise violation from gas-powered leaf blowers. These machines exceed the permitted noise limits throughout the City of Alexandria regularly, significantly harming health and quality of life.
Sec. 11-5-4.1 (c) of the 2022 noise ordinance states:
Between the hours of 7:00 a.m. and 11:00 p.m., Monday through Sunday, no sound generation shall result in sound having a volume of 75 dbB(A) or more, at a distance greater than 10 feet from the place at which the sound is being generated or produced, for an aggregate duration of time greater than 60 seconds in any one hour period or be plainly audible above the background noise level to a person of normal hearing acuity at a distance greater than 50 feet from the place at which the sound is being generated or produced.
Gas-powered leaf blowers, according to manufacturer specifications, frequently generate over 100 dB of noise (1) at close range. They require users to use ear protection to prevent hearing loss. At 10 ft, they regularly emit well over 75 dB, and are virtually always audible above the background noise at 50 ft away. This noise is significantly more when multiple machines are used. An increase of 10 dB is perceived by the human ear as a doubling of the sound (2), so a blower emitting 85 dB sounds twice as loud as a blower operating at 75 dB. Noise from these machines is a low frequency that travels long distances (3) and enters homes through windows easily, thus affecting a wide area of the urban community.
In Alexandria, these machines are used throughout the spring, summer and fall, primarily for moving yard debris. Homes in Alexandria frequently have numerous neighbors within 50 feet. One home may therefore be subject to hours of excessive leaf blower noise from multiple neighboring properties in a single day. This significantly reduces quality of life in the City and impedes learning and productivity. In addition, noise pollution is a rising public health problem, harming hearing, the cardiovascular system, child development and mental health. (4-6)
In response to the significant community disruption caused by these machines, 170 municipalities in the United States had enacted regulations that specifically limit or ban their use as of 2018, (3) with many more enacted since that time. On January 1, 2022, Washington DC enacted the Leaf Blower Regulation Amendment Act of 2018, banning their use in the District of Columbia. (7)
1.https://opereviews.com/landscaping/leaf-blowers/best-backpack-blower-shootout/
2.https://jlaudio.zendesk.com/hc/en-us/articles/217201737-Doubling-Power-vs-Doubling-Output
3.https://static1.squarespace.com/static/57e80a57414fb52bddd431f1/t/5b633e088a922dd389d31838/1533230601550/2018.07.16_DC+COW+Bill+22-234+Report_Final+Jamie+Banks.pdf
4.https://www.cdc.gov/nceh/hearing_loss/docs/CDCPresentationNeitzel-508.pdf
5.https://www.massmed.org/Advocacy/State-Advocacy/State-Testimony/Testimony-in-Support-of-H-868,-An-Act-to-Establish-a-Grant-Program-for-Low-Noise,-Low-Emissions-Landscape-Maintenance-Equipment/
6.Munzel T, Schmidt FP, Steven S, et al. Environmental Noise and the Cardiovascular System. J Amer Coll Cardiol 2018;71: 88-697. doi: 10.1016/j.jacc.2017.12.015.
7.https://dcra.dc.gov/leafblower
Given these concerns, we, the undersigned, request that the City of Alexandria:
1) Develop a plan to phase out use of gas-powered leaf blowers in its operations, as recently approved for Fairfax County.
2) Enforce the 2022 noise ordinance and/or enact other policy to address their wider use in the City.
You can further help this campaign by sponsoring it
The Quiet Alexandria petition to Alexandria City Council was written by Samantha Ahdoot and is in the category Local Government at GoPetition.
Quiet Alexandria