Justice for Nadia Bond (8)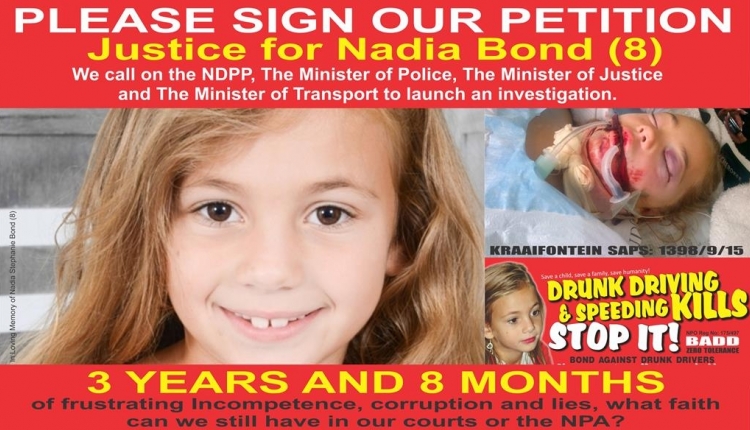 Target:

NPA, NDPP, Adv Shamiela Batohi, Ministers of Police, Justice, Transport, Western Cape Government

Region:
CORRUPTION AND GROSS INCOMPETENCE OF SAPS, COURT OFFICIALS AND THE NPA (National Prosecuting Authority)
I am asking you to sign this petition to raise our plight for Justice to Ministry and Parliamentary Level.
Justice for Nadia Bond (8) - Please take the time to read.
I have been fighting for the truth and Justice for the Horrific, Brutal and Cruel death of my little Girl for 3 Years and 8 Months, what I have faced is a System which is Frustratingly Incompetent, Grossly Corrupt and Maddeningly Ignorant.
I have raised my concerns with these issues repeatedly with the DPPWC since late 2015 expecting the Director of Public Prosecutions Adv Rodney de Kock to take the appropriate action to protect the integrity of our courts and Justice procedures. They are the ones who are mandated to ensure Justice without Fear, Favor or Prejudice. I have faced the opposite... All my complaints are repeatedly ignored, questions remain unanswered, they have clearly and repeatedly ignored so many aspects of the cruelty that was done to my child. I have been openly lied to in writing while we have suffered gross secondary victimization. We employed Independent investigators to highlight the facts, the DPPWC ignored our plight for truth. The "Experienced" State Prosecutor which we were promised to be the voice of Justice openly and disgustingly lied in court, neglected to cross examine blatant perjury from the Western Cape Government Employed witness from Shadow Center, she only called ONE eye-witness to testify out of the numerous that should have been compelled to testify. And this act seemed to be in collusion with the Defense Attorney. The Integrity of our courts is further GROSSLY evaporated when the Magistrate rejects the Expert Private Road Crash Report compiled by the highly experienced Johan Joubert of Tar Services. He bases his rejection of the report on ridiculous reasons - The Expert called himself an expert too many times, he refers to proven FACTUAL evidence presented in the report and calls the report biased towards the accused, he refers to the Post Mortem report and states that there is nothing that indicates that Nadia's neck was broken, yet it is mentioned TWICE in the report. Yet the State Prosecutor never puts the Medical Expert on the stand to testify and verify her Post Mortem Report and the GROSS injuries my child sustained. The accused Bradley Gysman is never charged with murder and found guilty of Culpable Homicide and sentenced to a measly 4 years for his gross acts upon a child. WITHOUT ANY NOTIFICATION to us as family he is AGAIN released on bail to petition an appeal. His accomplices are never charged with anything, nor are they ever called to testify in court for their criminal acts.
It has been 8 months since a convicted criminal child killer has been released on bail and again it is left to US AS PARENTS to pursue the matter. Again we are spending all our resources raising our concerns with the DPP and the NDPP. Yet again we are REPEATEDLY lied to by the the NPA regarding the procedures. It is clear that nothing will be done unless we enforce action. It is CLEAR that corruption and incompetence is RIFE in our courts, protecting a criminal child killer at the expense of truth and justice - At the expense of society and our children - IT MUST BE STOPPED and those responsible MUST be held accountable or IT WILL BE REPEATED upon another innocent child and family.
It has been 3 years and 8 months of a horror that we as family should never have faced, it has destroyed our faith in the criminal justice system, it has destroyed any value we can have in the NPA or our Courts. It has destroyed our sense of healing from the horror of what was done to our little girl. We have shown tremendous patience, to have shown immense resolve but it has destroyed our life, our finances and our ability to heal. This can not be allowed in modern society, South Africa has seen enough corruption in every aspect of life, don't let us as average families be forced to face such gross corruption and incompetence in the death of our children.
Here is our story...
On the 18th of September 2015 at approximate 17:30 my 8 Year old daughter, Nadia Stephanie Bond was run down and killed on the corner of Denne Street and 9th Avenue, Belmont Park, Kraaifontein in the Western Cape of South Africa by Bradley Gysman. He struck my child at high speed virtually in front of his residence which is also an (unregistered) Day Care for young children owned and operated by his parents. He had no drivers license, operated a un-roadworthy vehicle, recklessly speeding, and struck my child with the center of his vehicle (registered to his parents) her petite little body was sent flying through the air before striking a stop sign post with her head. - Gysman then allegedly (witness statement) threatened a person wanting to call the Police and Ambulance, while the passenger (Ruduwaan Castleling) picked up my grossly injured child (It is important to note his statement states: " I could feel she was still breathing") they loaded my severely injured child into their vehicle Bradley Gysman was heard laughing and they left the scene with a 3rd person presumably Gysman's neighbor. (Name still unknown to me) The trio dropped my daughter at the Local Clinic (Kraaifontein Day Hospital) 2o minutes later (Doctors report indicates 17:50) by which time she had already died (no heartbeat, no pulse, not breathing). It is important to note that the Medical Facility is only 1600m (1,6km) from the scene yet it took them 20 Minutes before dropping her at the facility. It is only through the vigilant actions of the Nursing Staff that Gysman was prevented from leaving the facility while the Police were called. The Kraaifontein Police (Constable Samson and Petersen) arrived at the Facility at 18:16 - They claim to have arrested Gysman at 18:45 (30min to make the arrest). South African law requires blood samples to be drawn within two hours by a registered nurse which was available at the Medical Center of the Arrest. The Constables left the facility and drove from Kraaifontein to Athlone (35Km) before blood samples were drawn at Shadow Centre (Western Cape Government) by Registered Nurse Rochelle Bailey. The Constables original Statement suggested that they arrived at this facility at 19h15 (30minutes travel) and that blood was drawn at 19h37 - Nurse Bailey's Statement would claim that they arrived at 19H37 and that blood was drawn at 19H41. The Constables would later testify under oath that they were instructed by the Investigating Officer of the Kraaifontein Police to change their Statements and write a second statement changing the times of events to co-incide with the Statement of Nurse Bailey. Blood Alcohol results of Gysman returned a Blood Alcohol Level of 0.17 which is more than three times (3x) over the legal limit. The Constables returned to the scene with Gysman who told them the "accident" happened at 17H30. The officers measured the skid mark lengths as 38meters (by taking steps but not using any other measuring device) and Constable Petersen drew a sketch plan.
Nadia was declared dead (at Red Cross Children's Hospital) on the 19th (next day) due to massive brain injury in which her brain-stem had become detached making her unable to breath. (NOTE: The passenger who picked her up at the scene stated: He could FEEL she was still breathing) which means that she had sustained further injury to her spinal cord AFTER being picked up - it is a medical FACT that she would not have been breathing if her Brain-stem was already detached.
Even though it is a crime to remove a vehicle (or yourself) from the scene of such a crash (not accident) Gysman threatened a witness calling the police and ambulance AND was assisted by TWO others to load a Grossly injured, but still breathing, VICTIM into the vehicle and leave the scene, dropping her 20 MINUTES later 1600m away... WHERE DID THEY GO WITH MY CHILD.
Bradley Gysman was charged with 3 counts: Culpable Homicide, Driving while Intoxicated and Driving without a License. Regardless of every effort I made The National Prosecuting Authority DPP (WC) Adv Rodney de Kock blatantly REFUSED to charge either person for removing my child from the scene even though it is a CRIME. He stated in writing: "It is common cause that your daughter was rushed to the hospital in the car of the accused which at that stage was driven by another person" He further stated: "The accused and the bystanders were faced by an emergency. He and the driver of his car decided to rush your daughter to the nearest hospital. I do not consider that the State will be able to prove that the accused and the driver of the vehicle acted unlawfully" and further in his correspondence he states: "There is no evidence that such a decision contributed to your daughters death" Advocate de Kock BLATANTLY ignores the gross criminal actions of:
1. Ignores a written statement of a witness wanting to call police and medical assistance being threatened by Gysman.
2. Ignores a statement by the Passenger stating that he could FEEL she was still breathing.
3. Ignores that it took 20 minutes from the scene to nearest hospital which is only 1600m from the scene while TWICE claiming that Nadia was RUSHED to the hospital which is clearly contradictory to available evidence and witness statements.
4. Ignores medical evidence indicating clearly that Nadia suffered severe further trauma during and after being handled and transported in a CRIMINAL manner.
5. Ignores the National Road Traffic Act and Laws of South Africa and consequently protects criminals from prosecution by failing in his duty to prosecute a crime. In doing so he opens the doors for other Drunk Driving Criminals to handle their victims and remove them from the scene while causing further gross and severe trauma and death. Doing so while help IS available at the scene CAN NOT be condoned in any manner.
The Investigating Officer Sergeant Jacobs (Kraaifontein Police)
I first met with Sergeant Jacobs at the scene on Monday the 21st of September 2015. My brother and I had already visited the scene on the 19th and had taken photographs of the lengthy skid-marks that traveled through the intersection. Multiple eye-witnesses had already told me their version of what transpired including the young girl (name with-held to protect her) that was with my daughter at the time. When I met with Sergeant Jacobs I immediately became suspicious of his nonchalant demeanor: His explanation of events: "The car was travelling down the road and the girl suddenly ran in front of the car, there was nothing the driver could do" He was standing at the stop sign on the corner where my child's body had come to rest after she had flown through the air, the skid-marks started from the second house up the road, they drifted to the drivers right and ran straight through the intersection. He was attempting to advise me that Nadia was at the Stop sign and suddenly ran in front of a car that was skidding from two houses away? I told him it made no sense, firstly she was walking with a friend to the friends house which is in a completely different direction to what he was indicating. Secondly and most importantly, I had witnessed Nadias severe injuries, it was clear she had been struck at a high speed on the LEFT side of her body. It did not compute with what the Investigator was claiming and I told him so, simple logic: If Nadia had run in front of the drivers car from the drivers left, he would have struck her on the right side of her body, His response... Oh but maybe she turned around. I pointed out the skid-marks that ran through the middle of the intersection, more clear logic: If he had struck her in the middle of the road at the intersection she could not possibly have flown through the air, struck the stop sign and landed next to it. She would have been propelled forward. The Investigator simply shrugged, well that is what happened, she ran in front of the car the driver couldn't stop, I wanted to know how many witness statements he had taken and whether a SAPS Road Crash Investigator had already been to the scene, he could not answer. I went to the Kraaifontein Police wanting to know if a Road Crash Investigator had been at the scene to measure skid-marks and do a road - crash report. It transpired that at that stage nobody at the Kraaifontein Police had even bothered to call the Road Crash Unit. I wanted to know how many statements had been taken as I was already aware of multiple witnesses that were on the scene, it became clear that no effort was being made. It was 3 days after my Baby Girl had been killed under very suspicious circumstances and I was dealing with a law enforcement office who had not yet bothered to start collecting all available information, had not contacted a SAPS road crash Investigator and had appointed an Investigator that had just either lied to me in my face. His superiors were no better. My child had been murdered and they were treating it as her fault, total disregard to laws, they appeared hell bent on protecting the drunk driving killer, or had know idea as to logically consider the circumstances under which my child died. They were certainly not following procedure, or giving any real consideration to facts.
Regardless of the immense heartache and horror we were facing as a family, regardless of the fact that a family desperately needs law enforcement to provide answers in such times...
Our hell was only starting, while struggling through the deepest pain, soul destroying and life destructive longing, despair, heartache and intense horror for what was done to our child, we also had to find ourselves fighting gross incompetence and corruption of evidence by the SAPS members tasked to investigate the death of our child. Multiple Eye-witness statements were never taken, not even now years later, those that spoke to me personally... I gave their names to the SAPS. Others I recorded and gave the recording to Mr Marquard of the Blue Downs Court - I have those recordings, but nobody ever took their Statements, they never testified in court. A crime against the proper Administration of Justice.
The SAPS Road Crash Investigator Constable du Plessis only went to the scene 11 days after my child was killed. It took constant persistence with the Kraaifontein SAPS to get to that important step - But Instead of any "Expert" Road Crash Report du Plessis compiled a report which was clearly void of any sense of accuracy, He ignores obvious and indisputable factual proven scientific evidence, he ignores medical evidence, he ignores all witness statements including that of the passenger in the vehicle and the girl that was with my daughter. He also makes no attempt to interview any witnesses whose statements were not taken. He compiles a report in which he changes skid mark lengths from 43m and 38m respectively to 19m and 28m when doing his speed calculations. He then uses incorrect formulas to obtain a average velocity of the vehicle. Constable du Plessis's own photographs of the scene and photographs of damage to the vehicle are completely disregarded when he places the point of impact at the stop sign area even though it is CLEAR that Nadia had been struck with the centre of the car and could theirfor not have been impacted where he claims in his report. He goes further as to draw a sketch plan which is GROSSLY undermining any sense of accuracy by shortening the skidmarks far different to his own photographs. He further changes the words of a written witness statement stating that the accused had asked the witness to call the police, while the statement CLEARLY indicates that the witness had attempted to call the police but was threatened by the accused. Constable du Plessis's report makes no mention of the Intoxication level of the accused or that he has no drivers license, Yet he CLEARLY tries to lay blame on the child and us as innocent parents by stating "The child was allowed to roam the streets without adult supervision" He comes to this conclusion without EVER interviewing us, Nadia's caregiver or the girl with whom Nadia was when killed by Gysman. It is a completely false statement clearly aimed directly at shifting blame from the driver to the child and the child's parents. The report conducted by Constable du Plessis is void of known factual evidence, scientific or mathematical accuracy and nothing but a CLEAR attempt to verify the Investigator and the Accused version of events. It is so GROSSLY Incompetent that it cant possibly be a truthful report conducted by a TRAINED Road Crash Investigator. I can only view it as an attempt to deceive the proper administration of Justice which is a Crime against the very courts of our country. His Report, at best is Grossly incompetent, worse is that he claims to be trained in Road Crash Investigations -
which would mean that he has NO EXCUSE for compiling such a report - I therefor view his report as an act of CORRUPTION of evidence. Every attempt to address du Plessis's senior officers in the Pinelands SAPS Road Crash Unit has failed. The SAPS Ombudsman claims that they have no authority to question a Road Crash Report. The NPA ignores every complaint and makes NO EFFORT to address the report with Constable du Plessis. Mr Marquard of Blue Downs court eventually answers my complaint and claims (in writting) to have discussed the report with du Plessis who continued to stand by his report. In a recorded telecommunication Constable du Plessis denies that any such meeting ever took place with Marquard - clearly one of the two are outright liars - I repeatedly request urgent intervention from Lt Col Phillips who ignores my complaints about Constable du Plessis's report. While my complaints about Constable du Plessis are ignored he receives promotion to Sargent and becomes a "High Profile Road Crash Investigator. Surely this has placed EVERY crash he ever investigates into dispute. Under cross examination du Plessis admits that he does not even have mathematics as Matric subject! How on earth does he become a Ëxpert"Road Crash Investigator where higher education in Mathematics, Science and Physics is certainly a required education?
As parents of a grossly killed child we are forced to accept that NOBODY will address these issues. but I wont accept it, because the moment I do, I am also allowing such gross injustice to be done to another family and child and I cant bare the thought that another family should suffer the way we have. It is criminal.
MURDER OR CULPABLE HOMICIDE
My insistence that Nadia was MURDERED were always and will remain based upon the following:
1. It is a straight road with multiple children in the road vicinity in clear view of the driver.
2. Gysman lives at the Creche run by his parents which is in the exact same area where Nadia was killed. His residence is approx 40m from where her body came to rest. He IS constantly aware of the need for safety.
3. Gross Medical Injuries and the length of the Skid-marks and damage to the vehicle are PROOF that the vehicle was travelling at a high velocity, far higher than the legal limit. In order to reach a speed of a calculated minimum 88km/hour in such a short distance Gysman would need to continue to accelerate TOWARDS two girls crossing the road in CLEAR view.
4. Trajectory Scientific Evidence, Conservation of Momentum, Applied Mathematics, Medical Injuries, Witness Statements (including Passenger in the vehicle AND Girl with Nadia), Damage to the vehicle, Direction and length of skid-marks, and where Nadia's body comes to rest combined with pure and simple logic indicates that Nadia was struck PRIOR to Gysman making any attempt to stop or avoid my child. He accelerated towards two children crossing the road from his RIGHT and struck my child with the center of his car.
I invite ANY and EVERY Private Expert Road Crash Investigator, and BEG the services of an Internationally Trained and acclaimed Road Crash Investigator to test these claims that I make, I have NO DOUBT that they will be found to be true and correct - I Especially invite those who TRAINED the SAPS Member in question to conduct their own report and I respectfully demand that the Minister of Safety and Security and the Minister of Police issue instructions that such report to be conducted and measured against the report of Constable du Plessis.
5. Gysman Threatened the first witness on the scene, statements indicate that he LAUGHED while Nadia was loaded into the car while she was still breathing, they then took 20minutes to get to a hospital 1600m from the scene - a 6min trip at most.
6. Niether of them are ever called to give ANY evidence as to the trip from the scene to the hospital, we as parents are left to suffer in the horror and agony of what our child faced while she died. Even today NOBODY has ever given us any consideration, not the NPA, Not the Investigator, not the State Prosecutor, not the Magistrate - If it was an innocent act to "help" why is that not presented in any manner?
6. Gysman has shown NO REMORSE, instead flowers erected for Nadia at the stop sign were dosed with oil and set on fire. His parent have threatened my life, and we have been intimidated by Kraaifontein Police Officials on false documents provided by the Gysman parents.
7. Why... Why would somebody Intentionally run down a child? Bradley Gysman together with 3 friends had previously assaulted my son. He and his friends had been arrested by the Kraaifontein Police at his house. The Investigator insisted that we do not lay charges as nobody suffered any serious injuries and that all were children. After my daughter was killed The Kraaifontein Police claimed to have no knowledge of any event in which Gysman assaulted my son. It remains a fact though and the Gysman motive for killing of my daughter was clearly retaliation for being arrested for assaulting my son and the racial slurs we endured leads me to believe the murder of my daughter is the result of racial hatred.
10. If the death of my daughter under these circumstances are viewed as an "accident" the South African law, and Courts have effectively opened the doors for anybody to intentionally kill by using a vehicle as the weapon. They will never be charged with murder, and with the gross history of lack of decisive action in our courts most such ruthless killers will never be convicted.
Nadia Stephanie Bond (8) was MURDERED and her death has been covered up by corruption and incompetence. I ask you to sign this Petition in an attempt to avoid this ever happening to another child or family. Every citizen is a Road User, whether a 2day old baby going home for the first time, or a pensioner... Your life is at risk every time you use the road. This effects YOUR life - DEMAND ACTION!
Kraaifontein Case No: 1398/9/2015, NPA REF NO: 9/2/4/1-1031/15
State vs Bradley Gysman - Death of Nadia Stephanie Bond (8)
We the undersigned call on the National Director of Public Prosecutions (NDPP) The Minister of Police, The Minister of Safety and Security and the Natiaonl and Western Cape Ministers of Transport, to act decisively and with immediate effects to investigate the conduct of The Kraaifontein Investigator Sargeant Jacobs, The Arresting Officers Constable Samson and Petersen and the SAPS Road Crash Report conducted by Constable du Plessis of the Pinelands Road Crash Unit.
We further call upon the Western Cape Government and Minister of Transport to investigate the evidence provided by Nurse Bailey of Shadow Center in which she claims not to be able to remember whether she used an alcohol swab or Sterilizing water to clean the arm of the accused Bradley Gysman before Inserting the needle to draw a blood sample for the prosecution of intoxicated driving. We find it highly suspicious that a Registered Nurse employed at such a facility would not follow proper procedures and her testimony was a direct attempt to derail the Administration of Justice. Such testimony brings the entire operations of Shadow Center into disrepute and complicates every case conducted on blood samples drawn at the facility. Should Nurse Bailey be found to have committed perjury that she be charged accordingly.
We furthermore call on the National Director of Public Prosecutions to charge the accused Bradley Gysman and his accomplices for the act of unlawfully removing the grossly injured child and the vehicle from the scene and investigate the circumstances and 20 minutes it had taken to reach the hospital 1600m from the scene.
We further call on the NDPP to charge the registered owners of the vehicle Reg No: CA 55361 used to commit this horrendous crime for contravention of the Road Traffic Act by providing a vehicle to an unlicensed and Intoxicated driver thereby willfully and knowingly putting innocent lives in danger resulting in the death of a minor child.
We further call on the NDPP and the Minister of Justice and Minister of Police to investigate and Charge the mother of the accused for Perjury and obstruction of Justice based on the testimony given in court that she had taken or was aware of photos that had been taken on the scene while the child was being handled.
Serious steps need to be taken to investigate those involved in the Investigation and Prosecution of this crime. Even now 3years and 8 months later it has remained the job of the father to keep e-mailing and calling the DPP for answers while a gross criminal roams free, even after being convicted and sentenced it again remained the job of the father to continue e-mailing without which this case would not be persued in any manner by the NPA, 3 years and 8months of gross incompetence must be ended immediately and we URGENTLY request the Respective People in Positions of Power and Mandated by Society to act, act decisively and without any further delay.
The very confidence we a society can place in the hands of our SAPS and Judicial System lies in your hands.
We the undersigned respectfully ask you to end the turmoil placed upon an innocent family, provide Justice for Nadia, rest for her innocent soul and Freedom for the Family to mourn her beautiful life in peace, give closure for the multiple unanswered questions and Justice for the gross actions which terminated her life.
You can further help this campaign by sponsoring it
The Justice for Nadia Bond (8) petition to NPA, NDPP, Adv Shamiela Batohi, Ministers of Police, Justice, Transport, Western Cape Government was written by John Bond and is in the category Justice at GoPetition.
Justice for Nadia Bond (8)