Save Mount Stirling and stop the BSTLR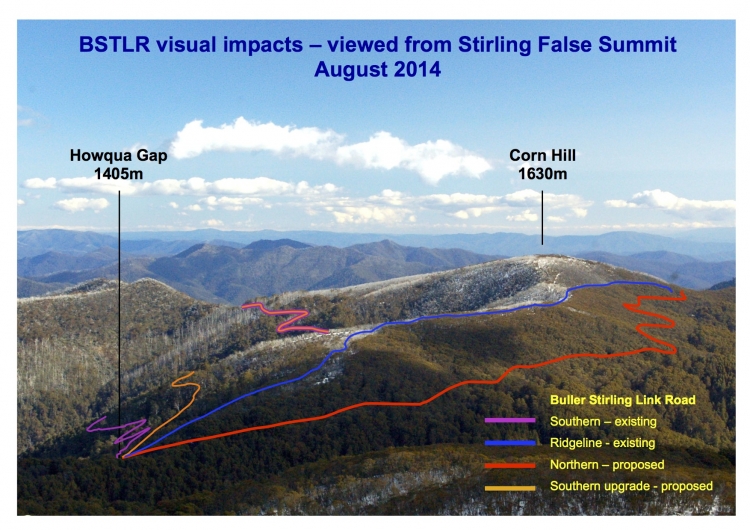 Target:

Premier of Victoria

Region:

Website:
To see a map, paste the following link into your web browser:
https://www.dropbox.com/s/zwt6z5uba4ztzpi/BSTLR%20Corn%20Hill%20Google%20Earth%20road%20tracings%20as%20seen%20from%20Stirling%20False%20Summit%2020140829.jpg?dl=0
Since the merger of the Mount Buller and Mount Stirling alpine resorts in 2004, there have been several attempts to build a new road between them. The proposed road has been called various names including the "Buller Stirling Touring Link Road", or BSTLR.
A connecting road already exists, called the "Corn Hill Road". It connects the two mountains along the south side of Corn Hill. In winter, the southern road is often used as a nordic ski trail because it accumulates snow, protected by shade. In the summer, the Corn Hill Road is a popular bush walking trail.
The Mount Buller Mount Stirling Alpine Resort Management Board (the ARMB) is determined to cut a new road through undisturbed old growth alpine forest along the NORTH face of Corn Hill. Northern slopes receive less snowfall and retain snow less well due to the sunshine from the north. The reason for the road cannot be for "a nordic ski trail". The proposed northern road is planned to be a sealed two lane highway. So it is not "a bushwalking trail" either.
The primary stated reason for the proposed northern road is to provide "emergency access" especially in the case of bushfire. You do not need a two lane sealed highway for fire trucks and a fire escape for the public. On Mount Buller, there is a fire brigade with fire fighting trucks, large snowmaking dams, reticulated water supply, hydrants and hoses, Neighbourhood Safer Places for people, and the ability for helicopters to take water from the snowmaking dams at will. Nobody on Mount Buller would escape an alpine bushfire along any road across the heavily forested Corn Hill to the heavily forested Mount Stirling. Clearly the "emergency access in case of bushfire" story is rubbish.
So what is BSTLR really for ? As a business, the Mount Stirling Alpine Resort is a failure. From 1998 to 2004, it received grants of $1.4m and still lost about $250k. Mount Stirling has no income outside the winter season, but it still has tens of thousands of summer visitors. As Buller and Stirling are now merged, patrons of Mount Buller are now forced to cover Stirling's chronic losses.
The solutions fall into two general categories. Firstly, make Stirling into a Buller lookalike and destroy it's wilderness character, or secondly, demerge the mountains and make Stirling a "protected area" such as a national park, so that it is protected in perpetuity.
With the "Buller lookalike option", you would need a short road to connect the anticipated "wilderness lodges" on Stirling with the ski lifts and entertainment on Mount Buller. Hence, a compelling need for the Buller Stirling Touring Link Road.
With the "national park" option, there is no need to do anything, except perhaps a modest upgrade to the existing Corn Hill Road.
If you love Mount Stirling as a natural wilderness, sign this petition to stop the BSTLR and save Mount Stirling for all future generations.
Tell your local politicians too.
See what we are trying to save;
See http://youtu.be/_3eu4_BsO4k
See http://youtu.be/NZe6nPsKkAs
We, the undersigned, call upon the Premier of Victoria, Australia to permanently cancel any permit for the construction of a road between Mount Buller and Mount Stirling, via the north face of Corn Hill.
We also call upon the Premier of Victoria to demerge Mount Buller and Mount Stirling.
We further call upon the Premier of Victoria to ensure that there is a completed Strategic Plan for Mount Stirling which retains Mount Stirling as an all season nature based tourist, recreational and educational resource, free of ski lifting infrastructure and built accommodation.
You can further help this campaign by sponsoring it
The Save Mount Stirling and stop the BSTLR petition to Premier of Victoria was written by iChaz and is in the category Environment at GoPetition.
Save Mount Stirling and stop the BSTLR