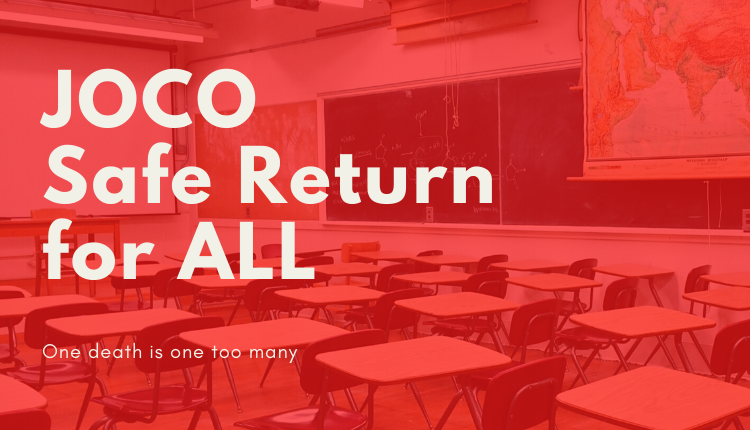 Target:

Johnston County Board of Education

Region:
Our educators want to be back in the classroom with our students, but not all of us feel safe. We miss working in the school environment, but is the death of a colleague worth it? Unfortunately, during these unprecedented times, there is no good option regarding school reopening. No one wins! The most important thing that needs to happen is keeping EVERYONE safe and to stop the spread of this deadly virus. It is simply unsafe at this time to return, no matter how passionately we would prefer to be teaching in our classrooms. In order to return to school safely for ALL the following facts and statistics cannot be ignored.
As of Friday, July 17th, 2020 the North Carolina cases of COVID-19 has increased to 95,477. On top of this increasing number of positive cases, NC has also been listed as 1 of 11 states that is currently in the "red zone" for test positivity. This means there are about 100 new cases per 100,000 population. It has been proclaimed by Dr. Deborah Birx that U.S. states with coronavirus surges should return to the White House's recommended "Phase One" where gatherings should be limited. Birx explains that indoor events should be avoided among states that are experiencing a surge. Within NC, there have been 25 counties further flagged as a "red zone" and Johnston County is listed third within the top 12 with 2,255 cases and rising with an average of 7 new positive cases a day. Keep in mind, this only counts positive tests and ignores cases that have not been tested.
Now considering this information, let's shift to the discussion of Johnston County Public Schools opening under Plan B, which states 50% school capacity with a rotating face-to-face instruction and remote learning. Logistically it is not possible to provide a safe environment for students and staff with the start of school just around the corner. A few weeks is not enough time to thoroughly provide safety measures. We need to work safer, not faster. We need to support the physical and mental health of every single person who walks through the doors of a school. That being said, in order to promote a safe return for ALL, Johnston County Public Schools should start in Plan C with 100% remote learning with action towards opening to Plan B when a secure and SAFE plan has been put together.
Here are just a few of many concerns from teachers and parents:
1. Under Plan B, parents have the option to enroll their child into a virtual program that allows these students to work 100% remote. If a teacher is also a parent and the only caregiver who can stay home, then under Plan B they will have no other option but to send their kids to school.
2. Under Plan B, the teachers have NO choice. We will still have to go into school every day and put ourselves and families at risk.
3. The more students who opt for face-to-face, the more teachers and staff the district will need to carry out the plan. This will result in limiting a staff option to work remotely and protect their health and the health of their family.
4. There are many teachers who have health concerns, but do not qualify under the high risk list.
5. There are many teachers that do not qualify as high risk, but live with someone who does (ex. elderly parent, spouse, or child). If they contract Covid-19, they will be putting their family member at risk.
6. If multiple teachers become sick, there are limited substitutes to cover them for 14 days. A lot of substitutes are retired teachers and may feel unsafe coming into a classroom where a teacher tested positive for Covid-19. Last year we were understaffed regarding substitutes.
7. The funds for cleaning supplies and medical equipment will run out.
8. We do not know the long term physical health impacts of Covid-19. Our students will be affected in the long run.
9. Entering an environment every day with the risk of contracting Covid-19 will affect the mental health of staff and students. Consider the amount of anxiety and stress that will be felt.
10. Students who are known to be sick will still be sent to school. Some parents consistently send their childen to school with the flu. This will be no different.
11. Children CAN asymptomatically spread Covid-19. This will undoubtedly happen and it will spread among teachers and then to their families.
12. There is no plan to control the spread through indoor circulated air in the schools and some schools are old and have poor HVAC systyems.
It is crucial to stop the spread of this COVID-19. Based on the percentage of population within Johnston County and the current rate of positive cases, people WILL die if we move forward with Plan B. This is unacceptable. One death of a teacher or student is one too many.
We, the undersigned, call on the Johnston County Board of Education to open the 2020-2021 school year under Plan C to give enough time to spend thoughtful effort towards schools to be opened safely for ALL.
You can further help this campaign by sponsoring it
The JOCO Safe Return for All petition to Johnston County Board of Education was written by Miriam Bonano and is in the category Education at GoPetition.
JOCO Safe Return for All