Petition Tag - national health insurance
1. Petition Congress to pass Single-Payer HR 676 – National Health Insurance
Our health care system is failing.

It denies care to many in need and often leaves families - even those with coverage - in financial ruin.

Huge administrative costs and profits divert resources from care to bureaucrats and investors.

Insurers' dictates and the pressures of competition and profit threaten medicine's most sacred values.


"Of all forms of inequity, injustice in health care is the most shocking and the most inhumane." – Martin Luther King, Jr.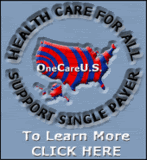 Please join us and be part of the solution. By providing your e-mail you can stay informed with periodic e-mail alerts. And rest assured all your information stays private. Thank you for your support!