Yes! I Support SB 840 - Universal Health Insurance for California
Target: Arnold Schwarzenegger, Governor, CA, The California Legislature
Petition Background (Preamble):
It is high time for quality affordable health care for all Californians.
Please join us and be part of the solution. By providing your e-mail you can stay informed with periodic e-mail alerts. And rest assured all your information stays private. Thank you for your support!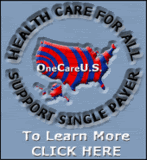 Petition:
We the undersigned call on the Legislature and the Governor to enact Senate Bill 840(Kuehl) to provide comprehensive, high quality health insurance for all Californians. SB 840 is based on the following principles:

---One health insurance plan(single payer) that covers every California resident

---High quality care and comprehensive benefits, and choice of your own personal doctor

---Affordable for individuals, families and businesses.
The Yes! I Support SB 840 - Universal Health Insurance for California petition to Arnold Schwarzenegger, Governor, CA, The California Legislature was written by OneCareUS.org and is in the category Government at GoPetition. Contact author here. Petition tags: one care now, kuehl, sb 840, universal health care, ab 8, california, single payer, schwarzenegger