Target:

Canadian Citizens

Region:
Petition Sponsor: Canadian voice for animals

Petition Co-Sponsor: SEA SHEPHERD CONSERVATION SOCIETY AND
www.seashepherd.org

Canada's commercial seal hunt occurs on the ice floes off Canada's East Coast in two areas: the Gulf of St. Lawrence (west of Newfoundland and east of the Magdalen Islands) and the "Front" (northeast of Newfoundland). Animal Activists made the hunt known worldwide in the early 1960's.




What if:



Seal slaughter: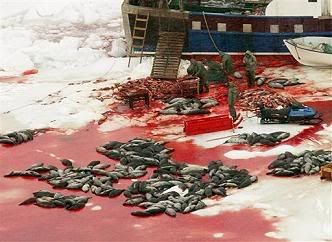 IF YOU LIVE OUTSIDE OF CANADA DO NOT SIGN THIS PETITION AS YOUR NAME WILL BE DELETED.
THIS PETITION IS SPONSORED BY:
SEA SHEPHERD CONSERVATION SOCIETY AND
www.seashepherd.org
CANADIAN VOICE FOR ANIMALS
www.canadianvoiceforanimals.org
TO THE HOUSE OF COMMONS IN PARLIAMENT ASSEMBLED
HARP SEAL SLAUGHTER
FOR CANADIAN CITIZENS ONLY
ALL PERTINENT INFORMATION WILL BE KEPT CONFIDENTIAL...
ONLY YOUR NAME, PROVINCE AND COMMENTS
WILL BE VIEWED BY THE PUBLIC.
For several decades the Canadian Federal Government has sanctioned an annual slaughter of the Harp Seals off the shores of Newfoundland and Labrador. It is estimated that 85 to 87% of all Canadians are against the slaughter and are ashamed of the horrible blight that has been a shadow of shame on their country.
This petition can be signed by all Canadian citizens regardless of age.
We request that you sign the online petition and then copy and paste the following form into a word document and collect signatures.
We especially hope that you will encourage your children to take the form to their schools and have their classmates sign. The children are our hope for a better life for all living creatures on this planet we call Earth.
| | | |
| --- | --- | --- |
| PETITION TO THE | — | House of Commons, House of Commons in Parliament assembled. |
| We, the undersigned, | — | Citizens of Canada |
| wish to bring to your attention | — | The horror of the annual Canadian Seal hunt off the shores of Newfoundland and Labrador. |
| THEREFORE, we request (or call upon) the | — | House of Commons, House of Commons in Parliament assembled. |
| To | — | Finally put a stop to the hunt and give Canada back her good name. |
Signatures
(Sign your own name. Do not print.)
Addresses
(Give your full home address, your city and province, and postal code.)
______________________________
______________________________
______________________________
______________________________
______________________________
______________________________


PRINTER FRIENDLY PETITION FORM MAY BE DOWNLOADED AT THE FOLLOWING LINK:
Canadian Voice for Animals - Petition Form

After you have collected the signatures, please send them to:

The Canadian Voice for Animals,
205 – 1495 Esquimalt Ave.,
West Vancouver, B. C
Canada
V7T-2V9

Our goal is to collect 300,000 signatures in order that this request for a plebiscite will show the Canadian Government that the majority of the citizens of Canada are against the annual seal hunt. We encourage you to contact your member of parliament and ask if he/she will support this action.

If we, the citizens of Canada, all pull together, we have a very good chance of having this annual horror stopped. We thank you in advance for your dedication to this petition.

Earle Bingley and Captain Paul Watson
Presidents of:
Canadian Voice for Animals
www.canadianvoiceforanimals.org
Sea Shepherd Conservation Society
www.seashepherd.org

Captain Paul Watson
Founder and President of the Sea Shepherd Conservation Society (1977-
Co-Founder - The Greenpeace Foundation (1972)
Co-Founder - Greenpeace International (1979)
Director of the Sierra Club USA (2003-2006)
Director - The Farley Mowat Institute
Director - www.harpseals.org
Sign this petition